Top 10 Most EXPENSIVE Yachts in The World 2022
What is YACHT?
According to
Collins Dictionary
, A
yacht
is a large boat with sails or a motor used for racing or pleasure trips.
Today we're exploring some of the world's most expensive yachts. These are the ultimate luxury status; skillfully designed and decorated to the owner's specific requirements and tastes. Let's explore the top ten of the most expensive yachts in the world.
Also Read: 5 Most Richest Tech Companies 2022
10. Al Said – $300 million
Lürssen built it in 2008 for the late Sultan of Oman, now belongs to the new Sultan Haitham bin Tariq. At that time, it was the world's second-longest yacht. This luxury yacht is 155 meters in length and can support a staff of 154, excluding 70 guests. This beauty can reach speeds of 25.32mph (miles per hour), and her interior was designed by London-based Redman Whiteley Dixon studio.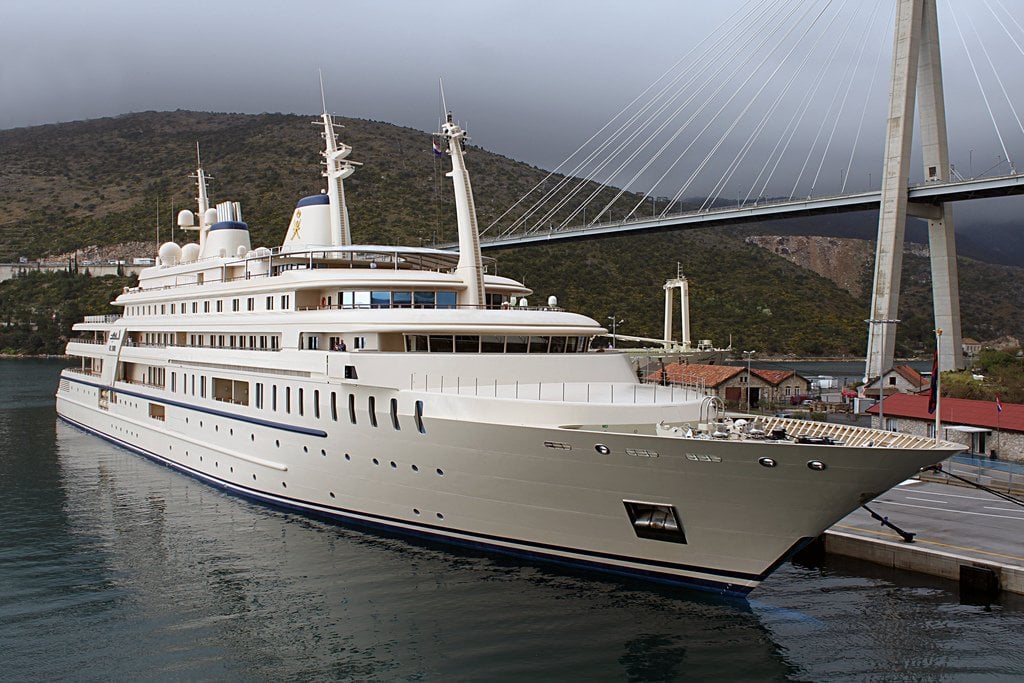 9. Radiant – $320 million
A great job is done by Lürssen, a German shipyard based in Bremen. It is 110 meters long and has a room for 20 guests and 44 crew members. It belongs to the Emirati billionaire Abdulla Al Futtaim whose net worth is $3.1 billion.
Radiance's exterior designer is Tim Haywood, and the interior is by Glen Pushelburg. The superstructure is made of aluminum. It includes a swimming pool, beach club, helicopter landing pad on the top deck, massage room, tender garage with tender, air conditioning, gym, movie theatre.
8. Serene – $330 million
Some people spend $450 million on a Picasso painting, then $300 million on a luxurious yacht doesn't seem like a big deal. Prince Mohammed bin Salman from Saudi Arabia bought the vessel for approximately €500 million while vacationing in the South of France. Bill Gates enjoyed time on it as he spent five million dollars a week leasing out this mega yacht.
It was initially built in 2011 by Italian shipyard Fincantieri with an interior design by Reymond Langton. Serene has several swimming pools, a steam room, play areas for toddlers, an outdoor cinema, piano room, conference rooms, beauty center bar, and helipads that can be converted into a dance floor.
Also Read: The Fastest Jet Plane In The World: SR-71 Blackbird
7. Dubai – $400 million
Sheikh Mohammed bin Rashid, the Vice President and Prime Minister of the United Arab Emirates (UAE), owned this extravagant yacht. His net worth is $14 billion, and he's donated more than $1 billion to humanitarian efforts in the Middle East and worldwide. But of course, he spent some of his earnings on himself.
It features jacuzzis, a helipad, a cinema, swimming pools, disco, water bikes, and a squash court, a dining area that can accommodate 90 guests. It can reach speeds of 29.92 mph and measures 162 meters long.
6. Motor Yacht A – $440 million
Reportedly, this yacht is owned by billionaire industrialist and philanthropist Russian-born Andrey Melnichenko, with a net worth of $23.5 billion.
Motor Yacht A's interior and exterior were designed by Philippe Starck and constructed by Architect Martin Francis. It has digital control systems that allow the sails to be lowered and raised at the touch of a button and 400 feet long. It also features a helicopter hanger, master bedroom, a disco, and a glass-bottomed swimming pool.
5. A+ (
Topaz) – $527 million
Sheikh Mansour bin Zayed has been the proud owner of this expensive yacht since 2012. Lürssen constructed this luxury motor yacht in Bremen, Germany. The yacht's interior was designed by Terence Disdale Design, and Tim Heywood designed the exterior. Larssen had a name change in 2019 to A+. 
The yacht can reach a maximum speed of 25.5 knots (47.2 kph) and is 147 meters long, adding a gym, swimming pool, jacuzzis, conference rooms, movie theaters, air conditioning, and underwater lights.
4. Azzam – $600 million
Once again, credit goes to Lurssen for constructed one of the most luxurious yachts. Khalifa bin Zayed Al Nahyan, president of the UAE and the UAE Armed Forces supreme commander, owns this 179 meter-long yacht, making it the longest private yacht globally.
It can reach 31.5 knots and is believed to be the fastest speed boat. Azzam has its missile defense system, a bulletproof master suite. It has almost all the major luxurious features that you can imagine.
Also Read: Top Best Tiny Self Defense Gadgets 2022
3. Streets of Monaco – $1 billion
Streets of Monaco is a concept by Yacht Island Design, while not yet complete. It will eventually feature a go-kart track, casinos, a replica of the Monaco Grand Prix track. It includes tennis courts, a bar, three swimming pools, a mini-submarine, a helipad, a mini waterfall, a restaurant with a fabulous underwater view, and many other luxurious things.
2. Eclipse – $1.5 billion
Roman Abramovich, the Russian billionaire, the Chelsea FC football club owner, is the owner second world's most expensive yacht. Terence Disdale designed its exterior and interior. It has a private defense system, including missile detection sensors.
With her length reaching 162 meters and a maximum speed of 25 knots, she won motor yacht of the Year in 2011 at the world superyacht awards. The master bedroom and the bridge of the vessel are fitted with armor plating and bulletproof windows.
1. History Supreme – $4.8 billion
The most expensive superyachts in the world is History Supreme, owned by Robert Kuok. He is a Malaysian business magnate and investor. This magnificent accomplishment is built from 100,000 kilograms of solid gold and platinum.
She was designed by British designer Stuart Huges, a world-renowned luxury designer, for Malaysia's richest man. It took roughly three years to build and features an array of luxury items.
Also Read: Top 10 Universities In The USA Of All Time
Credit Sources:
TOP 10 MOST EXPENSIVE YACHTS IN THE WORLD